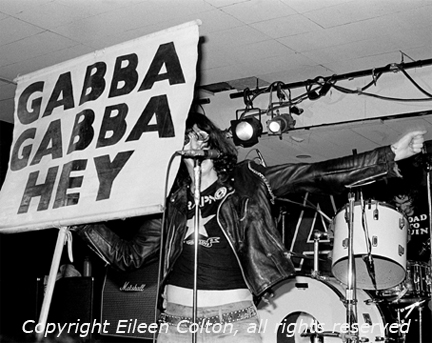 //echo($label); ?>
Deep down inside I got a rock n roll heart.


Back in the day as a young photographer, following the sage advice to "photograph what you love," Eileen always brought her camera to the countless concerts attended as a music lover. And what a time it was! The majesty and rebellious exuberance of rock, the gritty anger of early punk, the moving spirit of reggae and of the blues.
The resulting rocknroll images captured the magic of the performers and their music. Many are early photos of now famous artists, performing at small venues where photography was welcome. Black and white film, rushed home to be developed and printed, confirming the essence of the musicians and the show. You'll almost be able to hear them singing and playing.
Take a look and enjoy.

All rocknroll photos are available for purchase as 8"x10" prints in 11"x14" white mats for $50 each. Also available in 2"x3" magnetic frames for $7.50 each or three for $20 (okay to mix and match). Additional sizes and special orders available by request.
If you are interested in ordering a photo, please click here to visit Eileen's online Etsy shop.

To join Eileen's mailing list, request more information on a photo or make a special order request, please email her at eipics@aol.com
If you have a question or request about a specific photo, please include the photo ID that accompanies the photo (i.e. Clash 01, Dahlia 01, etc.) in the comments section below.
We will continue to update and expand the portfolios and encourage you to check back every so often for new additions to the site.


//check to see if you're logged in if (isset($_COOKIE["user"])) { //display the link to the admin tools echo'
'; } ?>